A Man Of Many Colors
Read Fred Zindi's review of Lion Songs @:
http://www.herald.co.zw/a-man-of-many-colours/
---
The Lion Of Zimbabwe: Thomas Mapfumo
Danger Zone is a 2015 album released by Dr. Thomas Mapfumo (aka The Lion of Zimbabwe) and The Blacks Unlimited. Since the 70s, Dr. Mapfumo has solely written his Chimurenga  music genre that he has consistently performed. Chimurenga, a term that resembles a struggle for peace and freedom carries a powerful theme for social justice. Dr. Mapfumo performs with the aid of the mbira instrument (a powered thumb piano).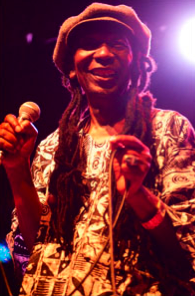 The dreadlocked Dr. Mapfumo who has become a voice of the voiceless on social justice issues, began his music career by playing western music upon forming his band in 1978. He would be famous for a new style of Shona language music with quick hi-hat rhythms supported by irresistible mbira tunes. That Chimurenga theme lured many to reignite their confidence in local music.
On the album Danger Zone, Dr. Mapfumo brings a mixed cocktail of themes ranging from troublesome wars, alcohol abuse, love, music and life. On songs like "Hatidi Politics" Dr. Mapfumo hits hard on politicking politicians who take the electorate for granted. Then on "Pasi idandaro" he reminds many not to take life for granted because life it's just a short-lived dream.
In general this album is well arranged and the variety it carries is impressive. It covers a wide spectrum of rhythms like reggae, jazz and pop. Dr. Mapfumo has a sonorous voice that is engagingly appealing. The sparkling fusion of guitar, mbira and horns rhythms makes the album a must-have.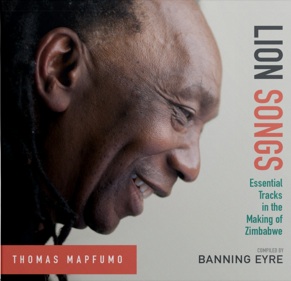 More music by Thomas Mapfumo – check this wonderful compilation with historical background information told by Mapfumo – click on the cover
Thomas Mapfumo: 'Danger Zone' (Chimurenga Music Company / Xango)
Thomas Mapfumo: 'Lion Songs' (Thomas Mapfumo / Xango)
---
Order from Amazon – Hardcover
---
Order from Thomas Mapfumo – CD
CURRENTLY OUT OF STOCK – WILL BE AVAILABLE AGAIN SOON
---
---
---
The Lion of Zimbabwe
---
Affectionately known at home as "Mukanya" ("Baboon") and to the rest of the world as the "Lion of Zimbabwe', Thomas Mapfumo has been a witness and participant of the history in his native country, Zimbabwe. From the bloody years of the country's liberation war in the 1970's, right through the present economic and political cries, Mapfumo has used his revolutionary, spiritually charged music to decry injustice and highlight the historical and cultural issues that underlie the news headlines. Mapfumo is a musical visionary, fearless social critic, and certainly one of the greatest African bandleaders of the past century.
---
---